This post contains affiliate links, which means I may receive a commission if you choose to purchase through links I provide (at no additional cost to you).
Traveling internationally with kids can feel overwhelming, but it's totally worth it! In early 2020 I was living in the United States when the opportunity of a lifetime came up. My husband took a job in New Zealand! I have two young girls, ages three and five. Before this we thought of ourselves as a well-traveled family, we had been all over the USA, England, Spain, France, and even the coast of Africa with our young children. As a family we had never been to New Zealand or on a flight quite that long, how hard could it be? And of course we had never flown during a pandemic, how hard could it be?
As it turns out it can be hard, but totally worth it! I certainly learned a lot along the way and even some things I will do different next time. Below I have some tips for traveling and flying internationally with kids. I want your international trip to cruise without turbulence.
Here's 3 things That Worked For Us While Traveling With Kids
1. Bring Distractions so Traveling With Kids is a Breeze
Kids need to be constantly stimulated with a variety of distractions. Planning ahead for your international flight is key. During our trip to New Zealand we had an 8 hour drive to the airport, a 5 hour domestic flight, then a 13 hour international flight. While the kids were excited to go, they were not excited to sit for this long.
They each took a backpack full of distractions. In the backpacks were carefully organized crafts, books, snacks, small toys, and an iPad with charger. It was only after our trip that I discovered a company will do this for you! Mini Voyager makes it easy to do this and has some great options for the young travelers. They offer creative items kiddos can take along with them on their travel and even offer customizable bundles. There's something for every age group and adventure! Elena would have loved the customizable 4-6 year old Jettsetter Kit package while Eva could stay busy for hours with the 2-4 year old Jettsetter Kit. Any of these travel kits can make international travel with kids much easier. Check them out!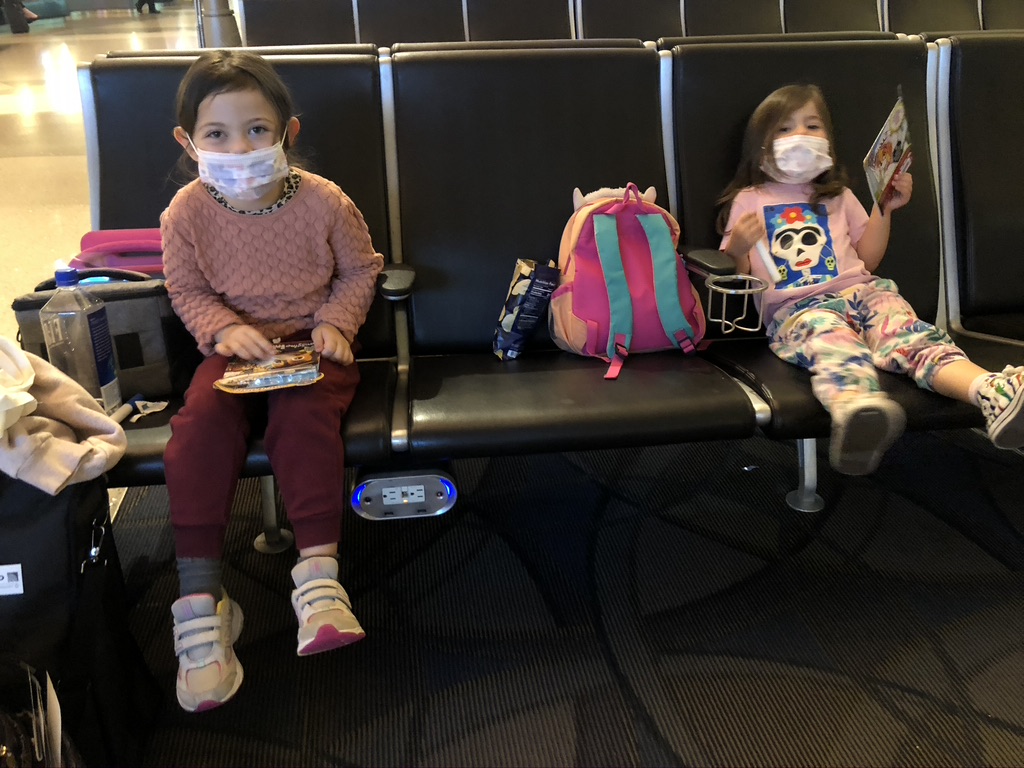 2. Have a Game Plan for Packing
Prepare well. I used labeled plastic tubs lined up in our master bedroom that we designated for stuff we wanted to take. We put the things we wanted to take on the flight in these tubs. Preparing your luggage can be a slow and thoughtful process, you don't have to rush. We spent a few weeks packing our luggage.
I always let my girls help pack their own suitcases. I want to make sure they know what they're bringing so they can feel like they contributed. It was so cute! They were thoughtful about what they added to the tub but sometimes needed a reminder that they couldn't take everything.
Having sturdy hard case luggages is a must. I bought 4 of these luggages for our trips. They have a great price point and are made of sturdy material.
Staying organized during this process is important and this luggage helps. We designated one side for toys and the other side for clothes.
The best way to stay organized with kids and their tiny clothes are packing cubes! This was another part of the move the girls enjoyed helping out with. Everyone had a set of cubes. Socks, all in one cube. Pajamas, all in one cube. Pants, all in one cube.
As simple as it sounds be sure to know what the climate is like in your destination country. In our case we were moving to New Zealand we went through each and every piece of clothing the girls had. We were landing in New Zealand during the springtime so I made sure to pack their spring and summer clothes. This was great because spring and summer clothes were way less bulky than our winter gear.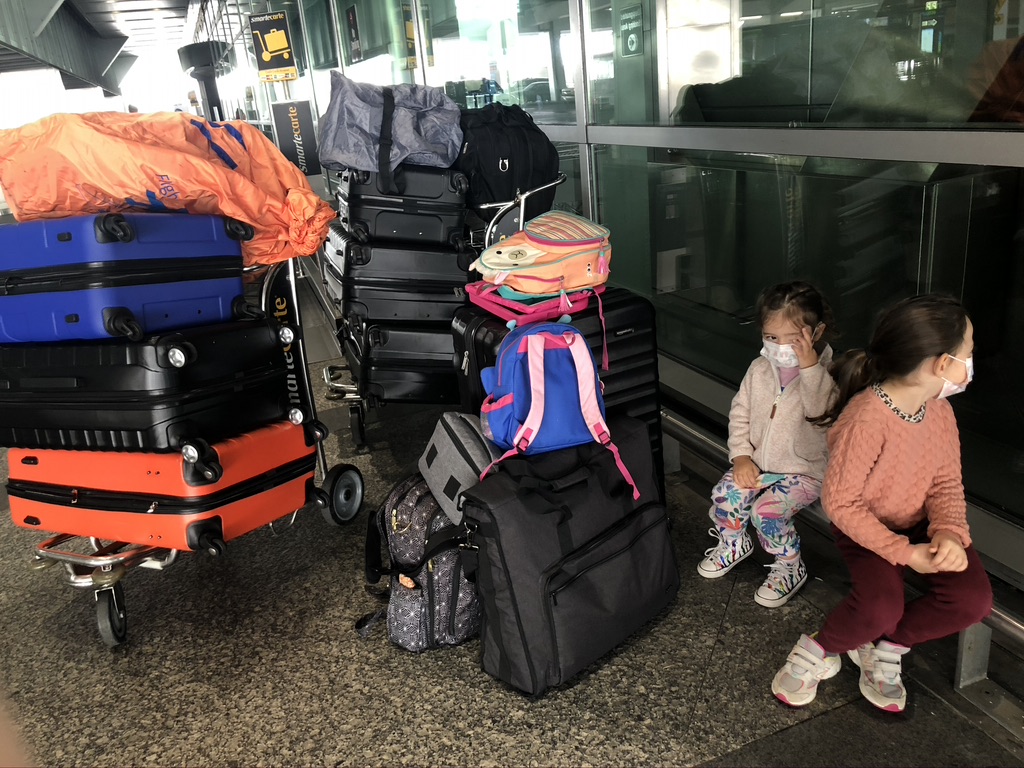 3. Do Your Research when Flying with Kids
Here's a tip when flying internationally with kids: do your research.
Research Your Airline's Policies
We were traveling across the world during the height of the 2020 pandemic. There was a strict masking policy on the airlines that was enforced even for young children. We needed to be smart about our travels. I bought the girls some face shields and children's disposable face masks. They did not have any problems wearing both the face shield or the masks. They were children's size so fit their little faces perfectly. The face shield had a stretchy strap and lots of designs and color for them to choose from.
I also bought adult face shields and KN95 masks for Brandon and I. The face shields came in one size fits most pack of two. These adult masks would be best for teenagers. The stretchy back made for a great snug fit for both our head sizes. Make sure to peel off the protective film on the masks when you are ready to use them otherwise they can look hazy.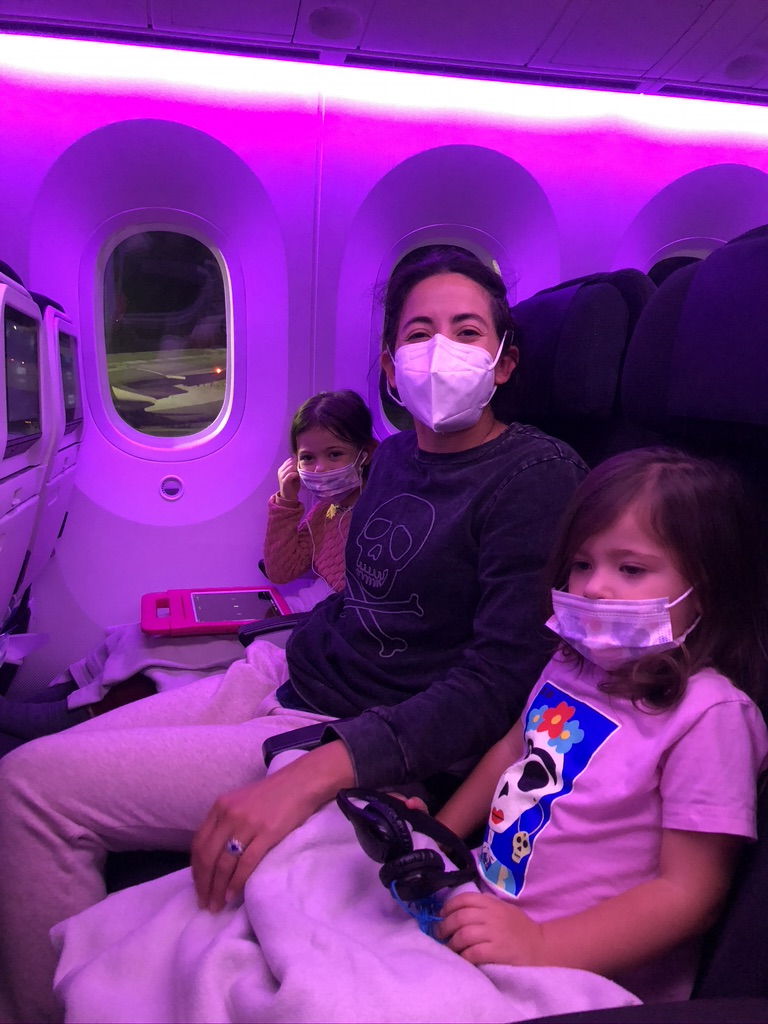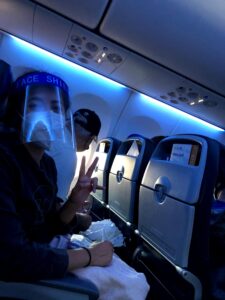 The masks and face shields were great! Wearing a face mask for a long period of time is not easy to begin with, and a small investment in comfort can make a big difference.
Research your destination's COVID plan
New Zealand took the pandemic seriously and starting in April 2020 required everyone entering the country to spend two weeks at a managed isolation hotel. In October 2020, when we traveled, they required several COVID tests during the stay. This requirement has since changed and you can find up to date information about traveling to New Zealand and MIQ here.
No matter where you're traveling during the pandemic you can find the current CDC guidelines here.
Traveling with kids and even flying internationally with kids can be an easy. A little preparation goes a long way. Be sure to plan carefully what you want to take and let your kids help in the process. Make sure to bring lots of distractions to keep their little hands busy for the long flights. Be sure to do your research so you don't find yourself surprised or caught off guard along the way. Check out my links below for some stuff that helped me.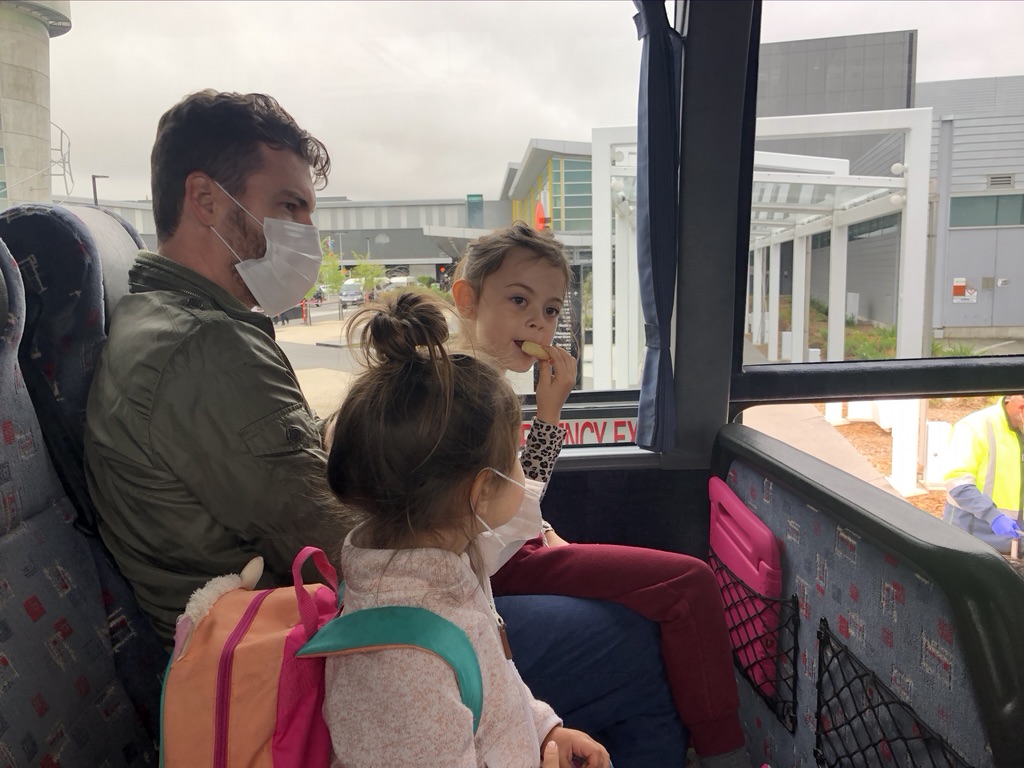 My Travel Favorites:
Comment down below and let me know what you plan on taking while traveling with kids.