Are you looking for an easy way to prepare for your next family adventure? My kids absolutely love a good adventure but need entertainment along the way. I am always on the look out for screen-free options to keep my kids entertained during road trips, airplane rides, train rides, and even restaurant outings. Mini Voyager plans it all with their custom travel activity kits. Planning for kids entertainment is easy and stress free with Mini Voyager's kids custom activity kits.
This post contains affiliate links, which means I may receive a commission if you choose to purchase through links I provide (at no additional cost to you).
What is Mini Voyager
Mini Voyager curates activity kits for children of all ages. Their mission is to enhance children's creative and adventurous side through their customizable kits.
The travel activity kits can be used for any type of adventure: a staycation, flight, road trip, train ride, restaurants, weekends with the grandparents. You name it!
Which custom travel activity kit to chose
There are two varieties of customizable kits. Available are the Jetsetter Travel Kit and the Weekender Travel kit.
Mini Voyager makes kits for ages 12months- 2 years, 2 years-4 years, 4 years-6years, and 6 years-8 years.
What's inside Mini Voyager's kids custom activity kits
The contents in each kit are customizable and can vary in minimum amount of items included. The Jetsetter kit comes with a minimum of 9-10 items. The Weekender kit comes with a minimum of 6-7 items.
The items inside are age specific and chosen with the specific age groups in mind. There are items of all different textures, shapes, and difficulty levels. The younger age group has lots of items for learning and increasing dexterity. The kits for older kiddos have games and books for creative drawing and even learning oragami.
One of the cool parts is that everything comes in a reusable Mini Voyager bag. Kids travel entertainment all in one bag!
Deciding between the custom travel activity kits
For Eva I chose the 2-4 year old Weekender kit. The items included in each of the Weekender kits are geared towards whichever age group that is chosen. This activity kit will captivate even the busiets toddler. In addition to the regular items to choose from there are options to customize the kits even more by adding extras or multiples of some items. This 2-4 year old Weekender kit included one play doh set, one travel sticker book, stretchy noodles, suction stackers, squishies, chopsticks with pom poms, and a twisty pet bracelet. Eva's favorite is the sticker book, she keeps it next to her car seat and reaches for it during long car rides.
For Elena I chose the 4-6 year old Jetsetter kit. This kit is filled with items to keep her entertained both independently or with the rest of the family. This 4-6 year old Jetsetter kit included one twisty pet bracelet, a writing tablet, one spot it game, stretchy noodles, suction stackers, squishies, a mini block set, a drawing book, and a rubber stamp activity book. Elena especially loves the drawing book and the writing tablet.
We reach for our Mini Voyager kids travel kit wherever we go. Check out some of my other ideas for traveling with kids here. Both my girls get car sick easily so anything in their kids custom activity kit is a great option while riding in cars.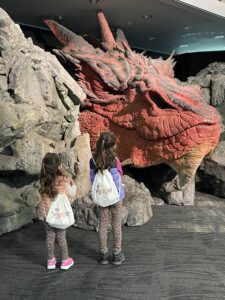 Mini Voyager takes the work out of making a travel kit on your own. Where will you take your Mini Voyager kids travel kit?