If you are looking for the quintessential New Zealand skiing experience, look no further than the Cardrona Alpine Resort just outside of Queenstown! The Cardrona ski field packs a great adventure that is both family friendly and high quality New Zealand skiing. I recently spent four days at the Alpine Apartments located at the Cardrona ski field base camp and had an incredible experience.
I can't wait to go back! Here's what I learned about the Cardona Alpine Resort that can help you plan your next New Zealand ski trip.
Where is Cardrona Alpine Resort
Cardrona is located approximately 58km (36 miles) north of Queenstown, New Zealand.
45 km (28 miles) from Queenstown International Airport
42 km (26 miles) from Wanaka Airport
35 km (22 miles) from Wanaka
The most direct route from Queenstown is traveling north through the Crown Range. The route through the Crown Range offers some spectacular views. Make sure to check the road conditions before entering the Crown Range during the winter months. If you are driving from Wanaka, the ski field is a straight shot south on Cardrona Valley Road.
How to get to the Cardrona Alpine Resort
The entrance to the Cardrona Alpine Resort is located off Cardrona Valley Road. From the entrance at the bottom of the mountain the ski field is approximately 14km (8 miles) on an unsealed access road. Snow chains are recommended to have on hand during the winter months. This type of road seems common for skiing in New Zealand. It's a bumpy ride to the top with some spectacular views of Cardrona and the surrounding mountain ranges.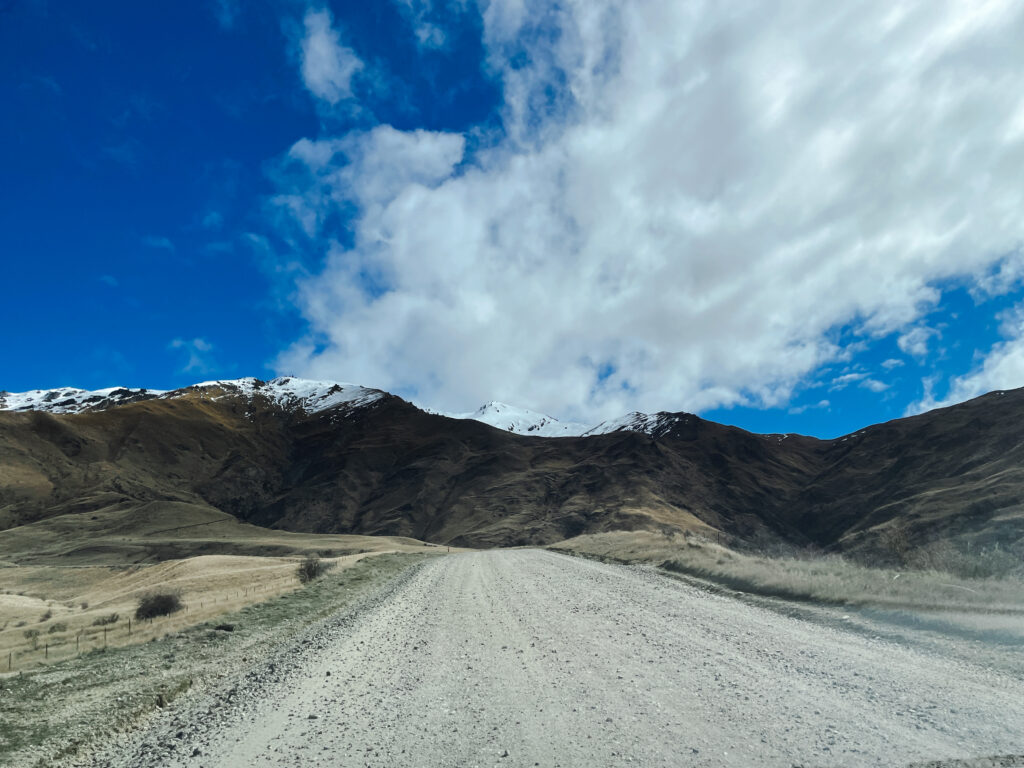 Drive
It was much more affordable for us to rent a car. Queenstown is a tourist city so there are plenty of options when it comes to car rental agencies. We rented a vehicle from Jucy Rental. With a rental we were able to drive up the mountain and unload our luggage easily. After checking in and unloading we were given a parking pass and parked in the designated spots for those staying on the mountain.
Buses and Shuttles
If driving is not your style there are various other transportation options. There are shuttle buses that leave from Queenstown and Wanaka. The buses leave from various locations in the area and cost approximately $30-$35 NZD round trip. These buses generally leave in the morning and return in the afternoon. Check their latest options here.
If you are looking for a shuttle service at the Cardrona Ski Field that is also an option. One kilometer past the Cardrona Alpine Resort entrance is the free parking area. The carpark is called the Pine Trees carpark and shuttle services run from there throughout the day at no cost.
Chauffeur Service
There is also a more private option, a chauffeur service. I was quoted approximately $600 NZD round trip for a private transportation service from the Queenstown Airport to the Cardrona Resort. This included pickup and drop off for a family of 4 with no stops in between. Theres and option to add a grocery stop for $50 NZD extra.
Where to Stay at Cardrona
Ski in ski out accommodations at New Zealand ski resorts seem to be nonexistent. With the exception being the Cardrona Alpine Resort. If you want the ultimate skiing experience then staying at the Cardrona alpine apartments is the way to go. The Cardrona resort offers 15 different apartment options. The options include studio apartments, 2 bedroom apartments, 3 bedroom apartments, 3 bedroom lofts, and 4 bedroom apartments. Perfect for any size groups. The apartments usually book up fast during the winter months. We were lucky enough to secure a few nights on the mountain.
We stayed at one of the 2 bedroom Alpine Apartments. It included a queen size bed in each room, a dining area, a living space, kitchen, and 1 bathroom with shower. Each bedroom had a heater as well as one in the living area. Drying racks are available for your ski gear and there are shared laundry rooms between apartment units. The laundry can be accessed easily without going outside.
New Zealand Skiing on Cardrona
Ski passes
Ski passes for Cardrona vary depending on the season and the day of the week. The passes are about $145 NZD a day. The price decreases the more days you ski. For example the 2021 2 day pass is $135 NZD a day, the 3-4 day pass is $100 NZD a day, and the 5-7 day pass is $75 NZD a day. There is always the option of getting a season pass if you are planning to go more than a few times. Since we were visiting from Wellington for only a short period of time we chose a multi-day option. We also opted for the lift package that included rental gear. The multi day package included lift pass, ski boot rental, and ski rental for $170 NZD a day.
Renting Ski Gear
Renting ski gear from the mountain is probably the easiest way to begin skiing. Purchasing equipment can be expensive, especially if skiing is more of an occasional activity for you. We own our skiing clothing and usually rent equipment on whichever field we will be skiing. The staff at the rental gear area was super helpful with everyone's fittings.
TIPS for equipment:
Grab your ski gear the day or night before if possible. Usually the lines are much shorter since most people are returning equipment and not checking it out. This way you can wake up the next morning and hit the slopes right away instead of waiting in lines to get fitted.
Family Friendly Ski Resort Options
Youth Group Lessons
A deciding point when I was looking at the ski resorts around the Queenstown area was that it was a family friendly ski resort. I wanted Elena to attend some ski lessons while there. Elena is 5 years old and has some prior ski experience. We signed her up for two days of lessons. The lessons consisted of a morning and afternoon session with a lunch break in between. There were also options for morning only sessions and afternoon only sessions. One session is approximately $75 NZD. The package we chose included lift pass, skis boots, and skis and was $288 NZD for 2 days.
If you plan on skiing for 4 days or more during the week then take advantage of the all day option for youth. Children must be between the ages of 5 and 14 years old. The full day program is Monday through Thursday. Take a look at the Cardrona Alpine Resort full list of youth ski programs here.
Ski Kindy
The Cardrona ski field is one of the only ski fields that offers youth ski classes for children younger than 4 years old in the Queenstown area. We wanted to make sure Eva, who is 3 years old, could begin learning how to ski. We signed her up for Ski Kindergarten, which is essential the childcare option on the mountain. Kids ages 3 months to 5 years can attend. The Ski Kindy center is a fully licensed childhood education facility. Prices vary by age and if you add ski lessons. Full day Ski Kindy with group lessons are from 8:30AM-4PM.
There are various options to choose from. Eva went for 2 days. The package includes full day of childcare with 2 group lessons during the day (morning and afternoon). Food is also provided throughout the day. Each ski group lesson lasts 2 hours. The full day of kindy with group ski lessons is $195 NZD a day.
Eva enjoyed the full two days of Ski Kindy at this New Zealand ski resort. She even wanted to stay for more. Overall we were very happy with the Ski Kindy and their skiing lessons. It was Eva's first time trying out the slopes and by the end of day 2 she was confident with stopping and turning.
As far as booking and reserving a spot at the childcare center, I suggest contacting the Cardrona Alpine resort in advance. I used the online option to reserve a spot for Eva. I communicated with the Cardrona childcare via email afterwards and completed additional enrollment forms ahead of time. There is also an option to book and enroll the day of. Enrolling the day of can be tricky since they will only take children if there are spots available. For additional information on Cardrona's childcare and ski lessons options visit their website here.
Cardrona Mountain
Ski Trails
This was our family's first New Zealand skiing experience. The Cardrona ski field was easy to navigate. There are many options when it comes to choosing ski trails on the Cardrona ski field but all the trails we chose impressed us with stunning mountain views.
Here's the 2021 Winter map. Check their page here for the latest maps.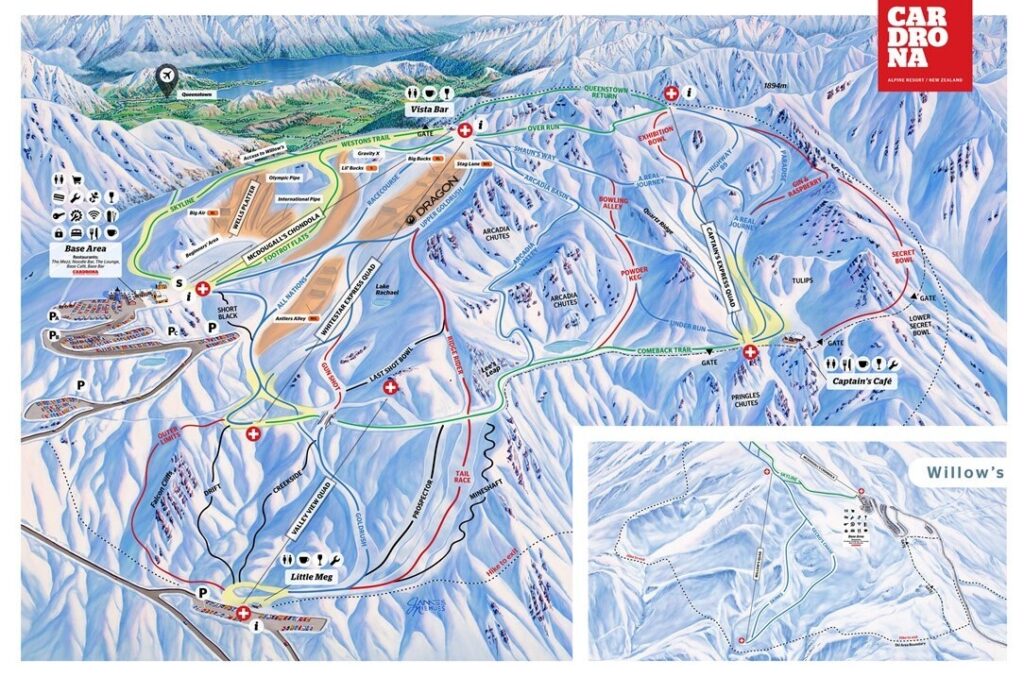 Food Options
There are a variety of dinning locations on the mountain. Below are some on the restaurants we checked out during our time at the resort.
Base Cafe – indoor cafeteria style dining
The Mezz – sit down restaurant that is open for dinner
Noodle Bar – asian fusion style lunch spot
The Lounge – cafe with indoor and outdoor seating
Black Peak Gelato Truck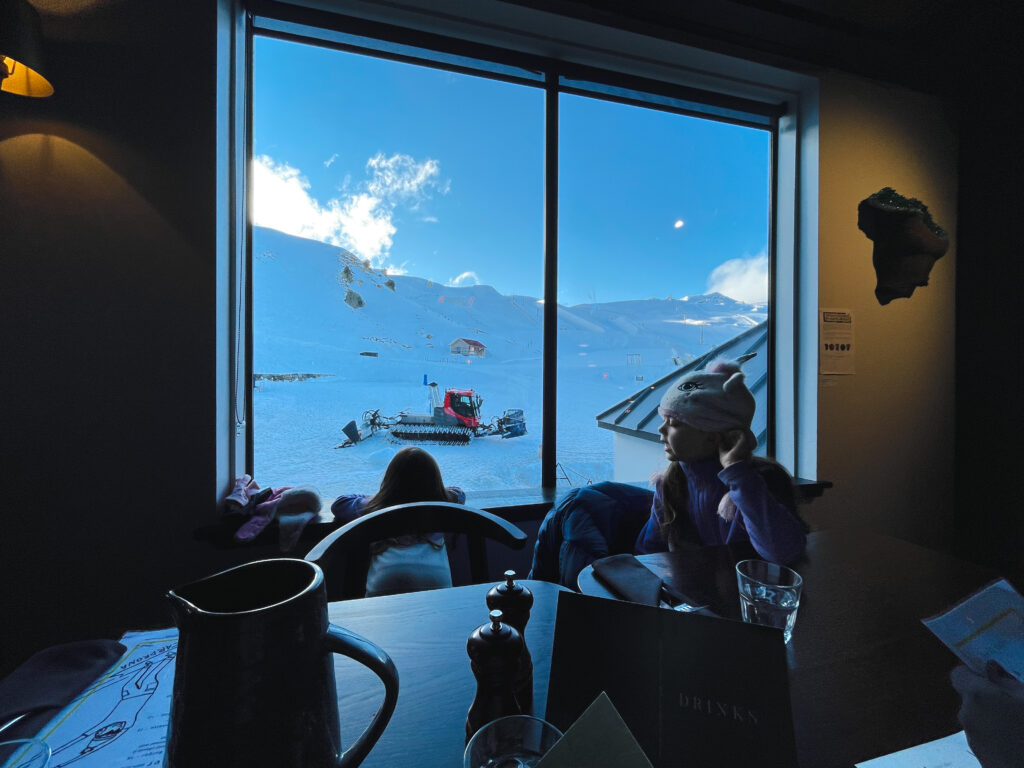 If you are planning to stay at the Cardrona Alpine apartments I recommend stopping at the grocery store before heading up to the mountain. There is no grocery store on the mountain. The apartment kitchens are fully stocked with most things you will need to cook meals. If you forget essentials like butter or milk, guest services does have some on site for sale.
The Cardrona alpine experience has been one of the most exciting adventures I have had in New Zealand. This family friendly ski resort offers high quality skiing just outside of several other awesome destinations on New Zealand's South Island. I highly recommend staying at the Alpine Apartments to guaranteed your ultimate Cardrona Alpine Resort experience. Make sure to book in advance if you are planning to stay because they tend to book up quickly. The mountain is open year round and offers accommodations for the summer months if mountain biking is more your style. See you on the slopes!
This post contains affiliate links, which means I may receive a commission if you choose to purchase through links I provide (at no additional cost to you).