Let's go! I'm about to get you closer to your international dreams! Moving to a new country is not easy and shipping your stuff can be even harder. I was moving from the United States to New Zealand during the COVID-19 pandemic in 2020 and brought a small house worth of stuff. Back in 2020, when I first started researching how to ship my stuff to New Zealand, I had zero clue about the process. I've learned a lot along the way. Before this I had never moved out the country so this was brand new territory for me.
Lucky for you I've done the research! Make sure to read to the end. This way you can make the best decision for your shipping needs.
Following these 5 simple steps helped me ship my stuff successfully.
5 Steps to Follow To Ship Your Stuff Internationally
1. Take Inventory of Your Stuff
This first step is very important and maybe the hardest.
It's time to document your stuff.
Grab a pen and paper, your phone, iPad, or whatever suits you. Go through every room in your house. Look at each thing you own and decide how important it is. This will not be a fast process.
Ask yourself these 2 questions:
Do I really need this?
Can this be replaced?
After answering these questions you will have a better understanding of the importance of the items.
I suggest using the categories of keep, sell, donate, storage, or give away to family/friends. You can download my spreadsheet of categories here. Feel free to print it out and take it along with you. When you have a clear picture of what you want to take it will make the rest of the process so much easier.
I ended up getting rid of a lot of my stuff before leaving the states. I did this by donating things, having 2 garage sales, and selling on Facebook Marketplace over the course of a few months. My motto is "when in doubt, sell it!" I even sold something the day we left for New Zealand. Selling your stuff is also a great way to pick up some extra moving cash.
Throughout this process I kept thinking of my sweet parents who left El Salvador just before I was born. They only took what they could fit in their airplane luggage. Luckily I was able to take a different approach.
2. Know Your Budget
It's not cheap shipping stuff abroad.
Options for moving stuff out of the country vary greatly in price but can be tailored to meet most budgets. Once you narrow down what you want to take you can start shopping for a shipping option. You must have a good idea of how much stuff you are bringing to begin this process. There are many options ranging from simply mailing a few boxes (a few hundred USD) up to renting a full shipping container (greater than 10K USD). Most people fall somewhere in between.
When I moved to New Zealand I wanted to take my whole house. I quickly learned that this would be difficult, expensive, and probably unnecessary. Through taking good inventory and sometimes a little sacrifice, I was able to narrow it down to around 500 cubic feet, that ended up being about 60 boxes and a few bikes. It cost us around 8K USD. The costs can add up quickly and knowing your budget up front can help better shape the process.
3. Choose a Shipping Company to Ship Internationally
At this point you know what you are bringing and you know your budget. It's time to choose a shipping company. Below I've outlined a few companies that I think are worth mentioning. I have evaluated them based on cost, shipping timeframe, visa requirements, and packing requirements.
Be sure to pay close attention to laws around importing goods to your new country. Many countries do not allow raw goods like wood products, for example. This will vary greatly depending on the country to which you are shipping. New Zealand has a particularly strict customs process to eliminate potential contaminants of the native flora and fauna. I was particularly surprised with the rules around camping gear like tents and hiking boots and as a result did not bring any of this equipment in our shipping container.
Start researching all the different moving companies. Here's a list of my top 4 companies.
This company is based in New York. With International Sea and Air Shipping there's an option on their website for a free quote. Fill out a form on their website and quickly connect with staff. I received a quote the same day I inquired. The company does everything. They load your boxes into the container, put it on the boat, and manage it through customs when it arrives at your destination country. Once it arrives they drive it to your house and even unload it. This company offers an option of 30 days of free storage prior to shipping. This only applies to LCL (less than container) shipments.
I was quoted $4700 USD for around 250 cubic feet. There is a 25% deposit due when choosing your pickup date. Unlike other companies, a visa is not needed to schedule a pickup. This visa issue should not be overlooked and is an important aspect of choosing a company.
Ultimately I chose to use International Sea and Air Shipping. I had an excellent experience with the company every step of the way. They have given my readers a discount for 5% off shipping costs. Just mention Flor5off when getting a quote!
UPakWeShip is available in the US, Canada, United Kingdom, and other parts of Europe. Their website offers free quotes. Basically they'll deliver a shipping container or crate to your house, you fill it up and UPakWeShip ships it to your final destination. You are responsible for packing, labeling boxes, loading, and unloading your container. They only deliver and pick up on Monday-Fridays. You get 2 hours of free loading time in the price. Additional loading time is $95 USD per hour. Similar to International Sea and Air shipping, your stuff can be managed through the customs process if you choose this option. UPakWeShip has 3 different service options: a pallet, a crate, or a large container.
I was quoted $6,775 USD for a 20 foot container. There is a $1,000 USD deposit required to reserve the container. An active visa is required to work with this company.
iContainers is based in Miami, Florida. Similar to UPakWeShip, iContainers will deliver an empty container and you are responsible for packing it. iContainers will not help you load the container. They will give you 2 hours included for loading, after that it will run $100 USD for each additional hour. Loading is only done during the weekdays. I was quoted $4,530 USD for a 20ft container. An active visa is required to work with this company.
NZ Vanlines is a New Zealand owned international moving company based in Auckland. They offer international and domestic moving services. NZ Vanlines has a great website and easy to use quote process. They ask 3 simple questions before generating the quote. Where you are moving from? Where you are moving to? How much stuff are you taking? I received a response from NZ Vanlines 2 days after filling out the questionnaire. Unlike the other companies, they use a pre-move video survey with one of their moving consultants as part of the quote. I never fully completed this process, however felt it was strait forward and similarly priced to other moving companies.
Overall these companies are similar in what they offer and in price. My suggestion is to get a few quotes and see what works best for your budget. As I mentioned above, many of these companies require an active visa to begin the process. International Sea and Air Shipping does not which allows you to get the process started even before you have finalized your visa. This can be very convenient!
4. Pack Your Stuff
Now that you've decided on a shipping company, let's begin packing! I found it helpful to designate a space to work. I chose the dining room as my container room. Next you will need boxes. I've listed a few of my favorite style of boxes below, check them out!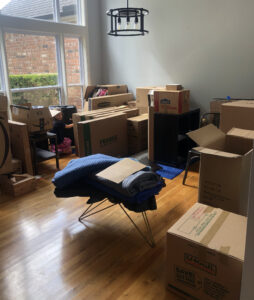 Heres a list of my favorites: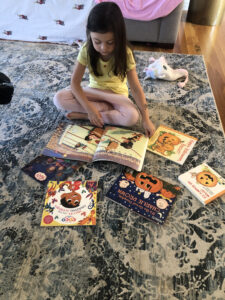 If you have kids, let them help in this process. Moving can be a confusing and even scary time for kids so letting them be part of the process can be helpful. I took this opportunity to explain to my girls what was happening. I let them be part of many of the decisions including what they would take. They could take one wardrobe box full of toys and then decide what would be donated or sold. They had a surprisingly good time.
5. Send it Off
Timing is key when you are shipping stuff internationally.
International Sea and Air Shipping requires a pickup of at least a week before leaving the country. Other companies may vary.
Like a gigantic Amazon package with everything you own, you can track your container! This part can be kind of fun. Your container may bounce around the world a bit. Ours made several stops before it arrived. We had fun tracking it as it bounced from New York to Malaysia and finally Auckland. We were quoted around three months shipping time but ours took a little longer due to COVID-19 affecting some ports. In general summer months tend to be busier for shipping companies.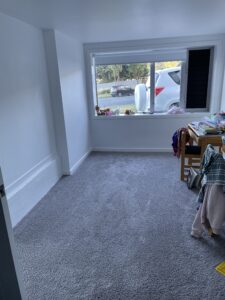 Prepare for the arrival
Since the containers are easy to track you should have a good idea when it will arrive. I got a heads up of a week before it was brought to our new home. I took this time to make enough space to hold all of the boxes.
Unpack Your Container
It will feel like you're opening presents!
After a long wait I was very excited when my stuff finally arrived! After 4+ months of waiting I almost forgot what I packed. Unpacking can be much more enjoyable than packing, and a lot quicker. If you wrap your things carefully there will be a lot of trash and recycling. Some delivery companies may offer to pick this up for no extra charge in the following days. Be sure to ask for this because it can be very convenient.
Moving your stuff across the world can feel intimidating, but it doesn't have to be. Following my 5 simple steps can help take the guesswork out and ensure your package is delivered on time.
Leave a comment below and tell me where you're moving!
This post contains affiliate links, which means I may receive a commission if you choose to purchase through links I provide (at no additional cost to you).