Buying a car can be intimidating but it doesn't have to be. Today I'm going to show you the ways you can buy a car in New Zealand. I remember feeling overwhelmed researching how to buy a car in New Zealand. I had so many questions about buying a car but could not get a straight answer.
In this guide I will get you straight to the point so you can begin your car buying process.
There's a few key things that need to happen before purchasing a car. You need to know which car you want to buy, it's cost and where to buy it from. Even if you're not on New Zealand soil yet you can start the process of making some of these decisions from anywhere around the world.
Decide Which Car to Buy
One of the bigger decisions you will need to make is which type of car you should buy. New Zealand's inventory might look different from other parts of the world. The most registered car in New Zealand in 2020 was a Ford Ranger. The Toyota RAV4 is the most popular registered SUV in New Zealand for 2020 with the Kia Sportage coming in as a tight 2nd.
Some things to consider
Gasoline
Depending on where you are coming from, gasoline (petrol) might be more expensive in New Zealand. Compared to the states petrol here is more costly.
| | | |
| --- | --- | --- |
| Prices | Liter | Gallon |
| NZD | 1.201 | 4.546 |
| USD | 0.846 | 3.202 |
| EUR | 0.717 | 2.714 |
average global prices from 28/12/20 – 05/04/21
Electric vs. petrol
Cars that run on petrol are usually less expensive than electric vehicles. Did you know that New Zealand wants to have an increase of 64,000 electric vehicles on the road by the end of 2021? In New Zealand electric vehicles emit 80% less CO2 than petrol vehicles. New Zealand government wants to decrease emissions and is incentivizing owning electric vehicles. Electric vehicles are exempt from road user chargers and save owners NZD $600 a year.
New vs. Used
If you are buying used keep in mind that a used car must pass the New Zealand warrant of fitness check. Here's some examples of prices for new and used vehicles in New Zealand.
| | |
| --- | --- |
| Car | Price NZD |
| Honda Jazz | $31,790 + ORC |
| Honda CRV | $40,990 + ORC |
| Susuki Swift | $26,500 + ORC |
| Nissan Leaf | $61,990 + ORC |
New Car Prices 2021
| | |
| --- | --- |
| Car | Price NZD |
| 2019 Honda Jazz | $25,950 |
| 2019 Honda CRV | $35,950 |
| 2018 Susuki Swift | $24,990 |
| 2017 Nissan Leaf | $21,990 |
Used Car Prices 2021
On road costs
Depending on which type of car you choose to buy you might need to pay on-road costs or ORCs. This cost will cover registration costs, warrant of fitness costs, and Road User Charges for diesel vehicles. Depending on dealerships on road costs can vary in price. Prices range from NZD $350 to $595 for used cars or $795 to $1300 for new cars.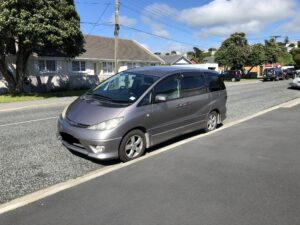 An option is to take your time and rent a few cars in New Zealand before making a big purchase. For example I rented a Toyota Estima Minivan and a Mazda CX-5 before buying my car. For the minivan reservations I used Scotties Car Rentals. They have locations in Auckland, Wellington, Christchurch and Queenstown. We rented our van from Christchurch and dropped it off in Wellington.
Once you have a good idea of which car you want to buy you'll need a place to buy it from.
Decide Where to buy
Deciding where to buy your New Zealand car can be as challenging as deciding what type of car to buy. The options on where to buy include buying directly from the owner, buying from a used car lot, or buying from a new car dealer.
TradeMe and Facebook Marketplace are popular sites in New Zealand to buy cars. TradeMe works similar to Craigslist in the States. You can usually get a good deal using these sites. If you go this route be prepared to get a proof of inspection, a certificate of fitness, a warrant of fitness, and registration.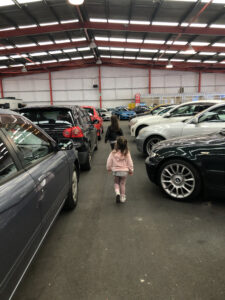 Another option is buying a car through a used car lot. These companies typically have a lot of inventory to choose from, affordable prices, and financing options. If you are going to be in the Lower Hutt area I recommend Trade in Clearance. New car lots in NZ are very similar to car lots in the united states.
Alternatively you can buy a car from a new car dealer. Dealerships offer full packages which include the car warranties, registration, and insurance. Some of the financing options at dealerships can be tricky if you are not a New Zealand Citizen. Financing loan term length depends on visa length. For example if your visa is for 6 months, you will only be eligible to finance over 6 months. Be sure to ask the dealerships about the ORCs. We purchased a used vehicle from the Wellington Honda Dealership and did not have ORCs.
Get Paperwork in order
The final step of the process will include lots of paperwork. Make sure to bring identification and supporting documents along with you. Some of the documents I needed were:
Photo Identification
Driver's License
New Zealand physical address
New Zealand mailing address
If you need to register your vehicle here's the NZ government site. Here is the NZ government site to buying and selling.
Consider public transportation
The Metlink train and bus system can be a good option in Wellington and Auckland. There are a few you things you should know about public transportation before climbing on board. The ticketing system is outdated and requires a paper ticket purchased at select stations. Not every train or bus station offers these paper tickets. Tickets may be purchased as a single trip, 10 trips, or for one month. These tickets must be purchased in person and they cannot be renewed or purchased online. Stations that sell these tickets often do not keep regular hours and are often unstaffed without warning. You must know your final destination before purchasing a ticket as this will change the ticket price. Tickets ca be purchased on the train but it is more costly and must be purchased with cash.
Once you navigate the antiquated ticketing system, public transportation can be a fun option for getting around. Sit back and enjoy the views. The train is quiet and tends to run on time. Outside of peak travel times it is also easy to find a seat or even bring your bike on board. Considering the train or bus for your commute can be an alternative to buying a car in Auckland or Wellington.
Thanks to "Buying a Car in New Zealand: The Beginner's Guide" you have everything you need to get started. You now have an idea of what car you want to buy, where you want to buy it from, and what paperwork you need to finalize the sale.
Get started and let me know how it goes! Comment down below which type of car you'd use, electric vs. petrol?