If you are reading this chances are instagram disabled or deleted your account. I'm sorry! I was in your same shoes when I found out instagram disabled my account and then found out instagram deleted my account for no reason.
This post is not what I would normally write about. I'm taking a brief detour because I think that it may benefit some of you all. I usually write about travel like this.
Early 2021 I was trying to grow my instagram account in an organic way. Meaning I use zero third party post apps or likes for follows.
One morning I went to post my usual content. I received an error message seconds after posting saying my account was disabled and to contact Instagram after 24 hours if I thought the violation of terms was a mistake. Then I got the message below stating my account had been deleted.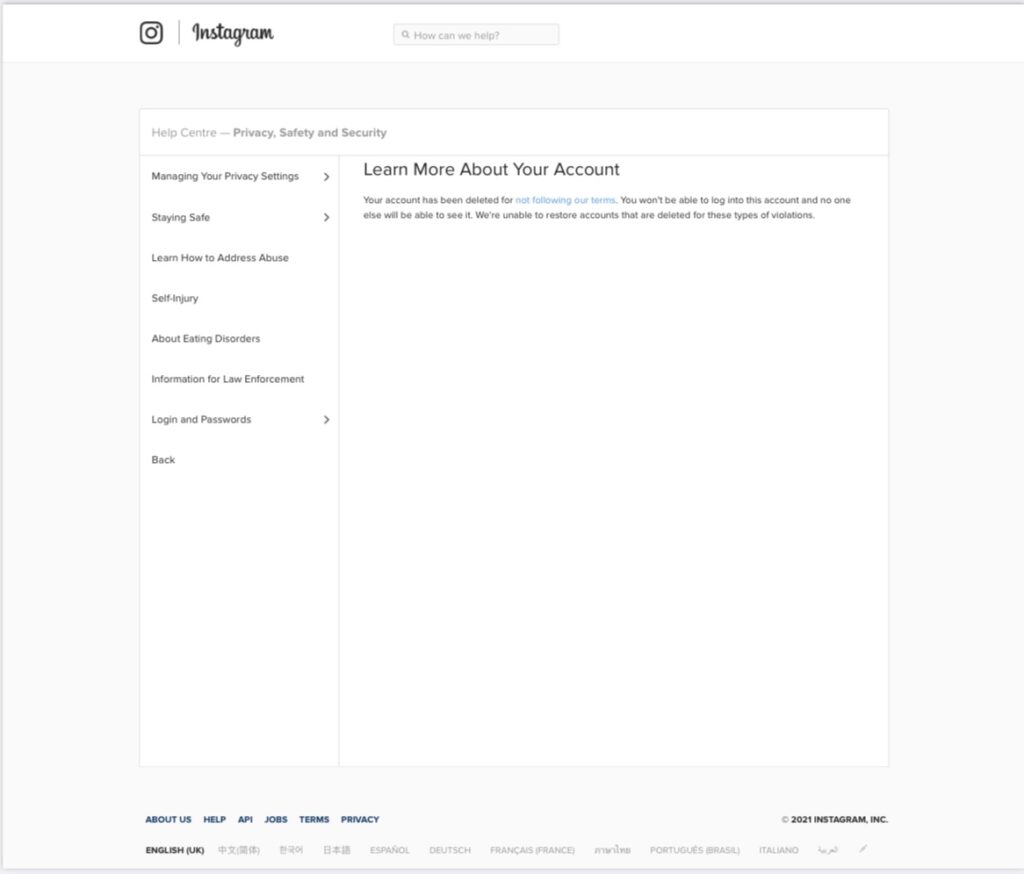 WHAT?! Instagram deleted my account page?! I of course freaked and started researching what this meant.
If this is happening to you, I hope you find this blog helpful. I was able to retrieve my instagram account in less than 30 hours.
Here's the steps I took to get my account reinstated. This may or may not work for you.
Steps I took after instagram deleted my account page
After getting a message saying instagram disabled my account page I began doing some research on how to get it back.
Everything I read said there was no coming back if instagram deletes your profile. As I found out this is not totally true.
Theres are a few options that can be taken if your account is disabled or even deleted by instagram.
Instagram does not have a phone number or even a contact support center. Most of their problems are handled through Facebook.
1. Reach out to Facebook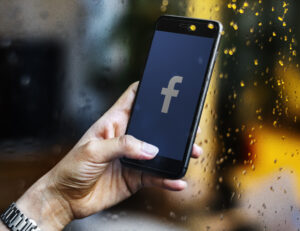 You will not be able to log into your Instagram account if instagram has disabled it.
Anytime instagram is sending you error messages make sure to take a screenshot of them. These messages can be helpful when dealing with the Facebook help center.
You can escalate and reach out to the help center before the timeframe that instagram gives you if you know what link to use.
If you wait for the time lapse that Instagram gives you along with their error message you can use that specific link. Either way they will send you to the same help page. See link below.
https://help.instagram.com/contact/437908793443074
2. Fill Out the Help Center Form
Make sure to fill out the form correctly. It will ask for your full name, username, email tied to the account, and then a brief message. With your message be as clear as possible without being aggressive.
After you submit your form you should receive a message saying someone will reach out to you.
The first time I filled the form out it was probably within 4 hours from getting disabled. I filled out the form completely and almost immediately received a message in my email inbox from Facebook. See message below.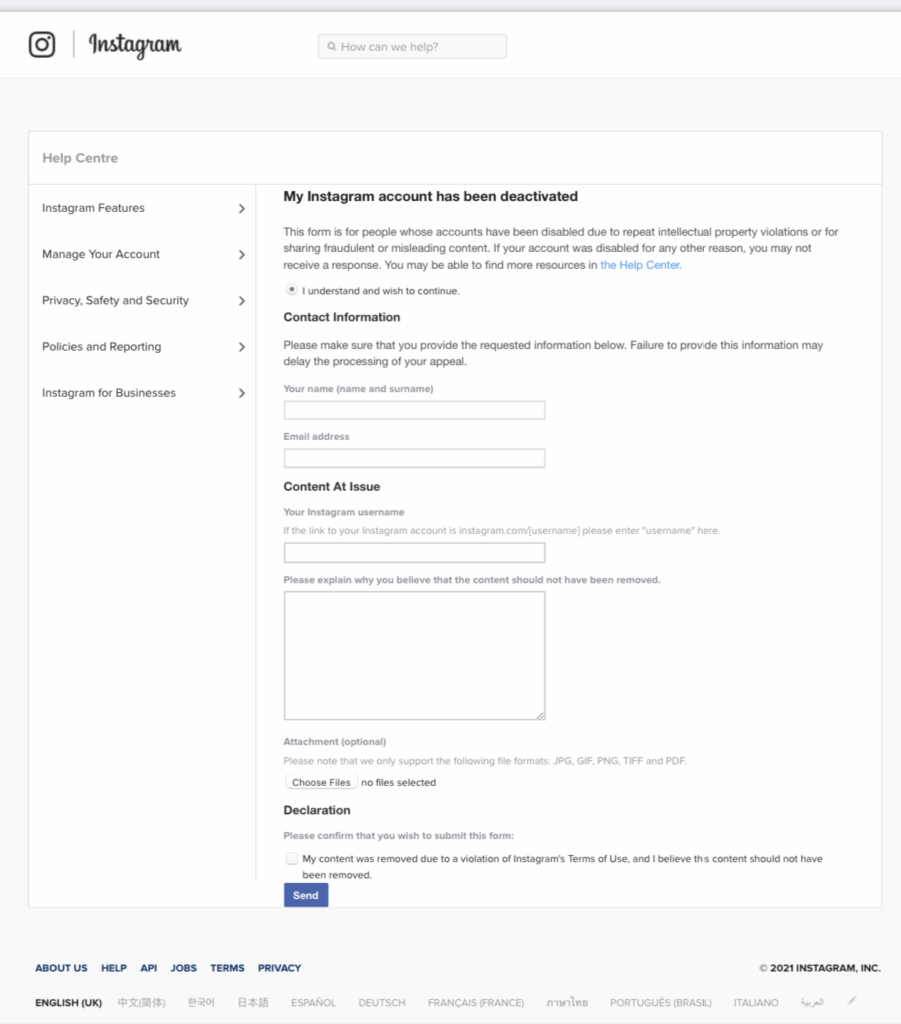 The e-mail message gave me a code and some instructions. It asked me to take a selfie with a piece of paper. The paper needed to have my full name, username, and the e-mailed code written legibly on it.
Make sure your picture is clear and you can see your face and hand while holding the paper. I've read from other people that had similar experiences that they needed to show their driver's license or other proof of identification.
I replied to their email with my picture attached.
3. Reach Out To Instagram Through Another Account
I had not heard a thing for over 24 hours when I decided to take a different approach. I went into another instagram account that I have tied to a different email. From there I went to settings, help, and then report a problem.
I wrote a brief explanation and included my disabled username and email tied to the account.
About an hour later I received this message from instagram and then about 4 hours later received the exact same message from Facebook through the ticket email chain I had with them. Within 30 hours of my initial lockout I was given access back to my account with a brief apology. See messages below.
This might not be what it looks like for you. Some instagram users are disabled for longer than the time I was disabled, like even months. Fill out the forms as many times as you feel comfortable doing it. Just try not to spam them.
Tips on how to prevent instagram from disabling your account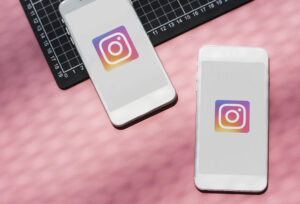 Having instagram disable my account for no reason was definitely frustrating. I hope that you can get yours back up and running if it happens to you. These are some tips that I found helpful and will continue to use going forward with my instagram page.
Every blog or vlog I went to had a similar theme. Instagram has the right to disable and delete profiles whenever they want at their own discretion.
Set up 2 factor verification
Setting up two factor verification with instagram is super easy. This will help if your account needs to be recovered or if there is an attempt to hack your account. Here's how:
Go to profile
Click the 2 horizontal lines
Click settings
Go to security
Go to two-factory authentication
Follow instagram prompted steps
Don't act like a bot or Instagram may delete your account
I read that you if you take more than 1440 daily actions on instagram you might get flagged. If you are liking a ton, following lots of accounts, or unfollowing lots of accounts you might get flagged. If you are posting pictures and tagging other accounts just try not to look too spammy. Pick a few accounts that you tag in your niche and rotate those.
Add your name to your account
Make sure your profile has your name somewhere. This can be especially tricky if you are a business but it can definitely help in the recovery portion.
Add a picture to your account
In addition to adding your name to your Instagram account page add your picture as well. Make the profile picture a picture of yourself. Just like adding a name to the profile this can also help with recovery.
Check violations so Instagram doesn't disable your account
If you have any violations they will be shown on the instagram app. This can let you know if you should be a bit more careful or slow down with your instagram usage.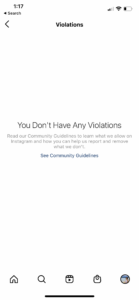 From instagram go to
Settings
Click help support request
Click violations
How to check violations
If you have nothing on your violations page but you're getting less likes or less engagement on posts there may be another problem.
You may be shadow banned. Shadowbanning is where instagram hides your post from others that don't follow you. The can last up to 14 days and is caused by a perceived violation of instagram terms.
Beware of hackers
There are people out there who claim to be hackers that can reinstate your account if it was disabled or deleted. Just be aware there is a possibility of being scammed.
Instagram does not charge to reinstate your account.
Helpful links I used when instagram deleted my account page
https://help.instagram.com/contact/437908793443074
Comment down below what worked for you