In October 2020 during the COVID pandemic I moved to New Zealand with my small family. New Zealand is COVID-free. To keep the country COVID-free and COVID out of the community New Zealand created a quarantine system which they termed Managed Isolation Quarantine. Any traveler entering the country needs to quarantine for 2 weeks in a government appointed hotel.
Since we were entering New Zealand in 2020 we had to quarantine. This meant staying in an MIQ hotel room for 2 whole weeks. Just my husband Brandon and I with our two young daughters Elena and Eva.
Your probably wondering what you will be doing during your MIQ stay if you visit.
Check out our New Zealand Quarantine Experience
Arriving into New Zealand
Airport
We were traveling from the United States to New Zealand. Our total flight time was approximately 17 hours. We landed in Auckland, New Zealand and were ready to begin our new adventure. Before getting off the plane the stewardess announced our MIQ location. We were going to quarantine in Christchurch!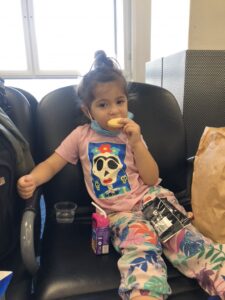 After deplaning in Auckland we were ushered through the airport. The airport was empty except for us and the airport staff. We quickly passed through a series of health and security screenings.
Flight to Christchurch
We boarded our New Zealand domestic flight to Christchurch from Auckland. The flight takes a quick 1 hour and 25 minutes. After landing in Christchurch and deplaning we began another series of health and security checks. The New Zealand Army was there to greet us and direct us to our checked luggage. Families were told to form lines on one side and solo travelers formed a separate line. It was in this line we were told the family groups were being sent to the Commodore Hotel.
Managed Isolation Quarantine Hotel Assignment
Currently there are 32 MIQ facilities in New Zealand. MIQ hotels located in Auckland, Wellington, Rotorua, Hamilton, and Christchurch. Placement into one of these MIQ hotels depends on which day you enter the country, the amount of travelers in your group, and each hotels availability. It's the luck of the draw. Here's the list of current Managed Isolation Quarantine facilities.
I was up to date on the New Zealand Quarantine scene and knew all the posh hotels I was hoping we'd stay in. Some hotels have better reputations than others. I had not heard a thing about the Commodore Hotel.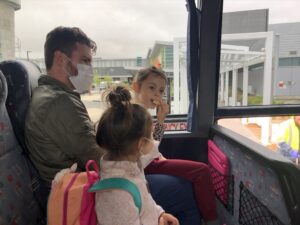 The Commodore Hotel Experience
We boarded a coach bus and were taken 2 minutes away to the Commodore Hotel. Even though it was a short drive we enjoyed our first glimpse of the New Zealand countryside and even saw a few sheep.
Food
The Commodore used an app to order food. Any additional meals, snacks, or drinks can be ordered with room service. There was usually a meat entree, a vegetarian entree and a vegan option. Expect to get dessert with all your meals.
The kids menu had a bit less variety. Breakfast was either muesli, waffles, or eggs and sausage. Lunch and dinner options consisted of pizza, fish and chips, chicken nuggets, a toastie (grilled cheese sandwich), or pasta. If we were quarantining in a larger city like Auckland we would have taken advantage of UberEats.
Facilities
We stayed on the first floor in a 36 square meters room. There was a small balcony with a garden view. We had 1 double bed and 2 single beds.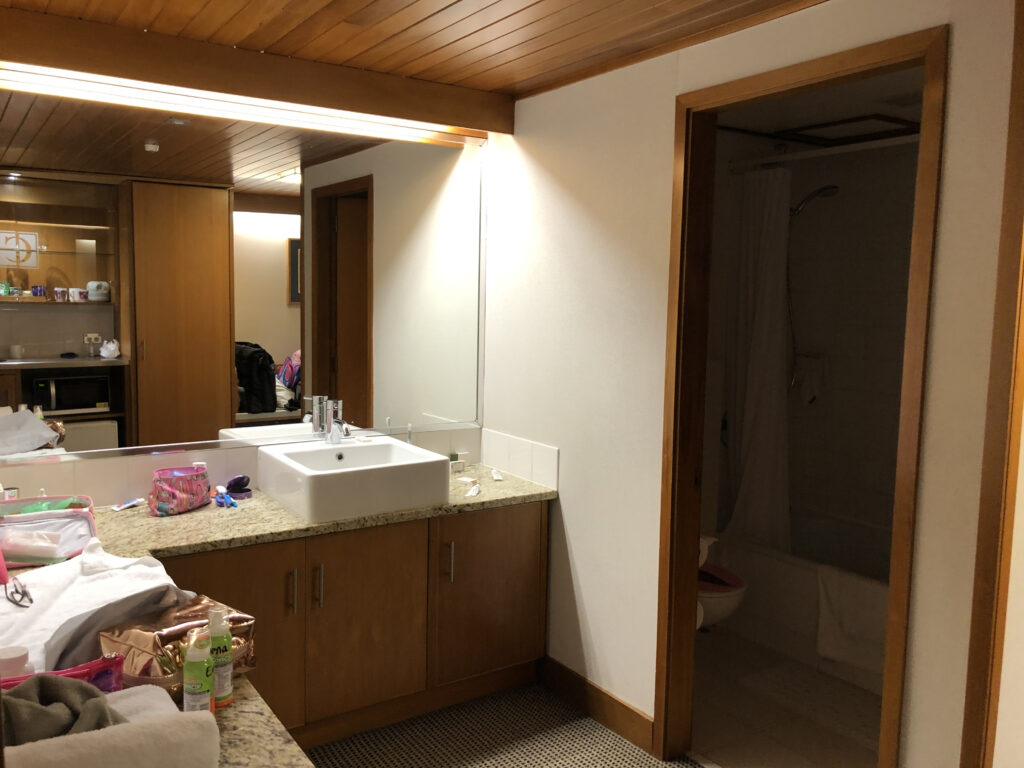 Possibly the best thing about the Commodore Hotel is it's ample outdoor space. Guests have the hotels entire parking lot to themselves. A white tarp covers the fencing around the parking lot and guests are encouraged to draw.
Cleaning
Each room comes with a bucket full of cleaning supplies. There are cloths, dish towels, dish soap and surface spray. We also brought a few Clorox wipes with us. To avoid potential exposure for the hotel MIQ staff rooms are not serviced during your stay.
Laundry
All laundry is washed by staff, they even wash your personal clothes. You just set your clothes outside in a bag and a few hours later its sent back clean and folded. The Commodore Hotel also provides larger bags for their linens. New linens can be at requested any time.
COVID wellness checks
Initial screening
The MIQ staff ask about any possible covid symptoms, perform a temperature check, and asks if you had any potential exposure prior to coming. If anyone tests positive on your plane then you are notified.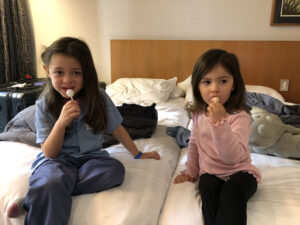 Day 3 check
On day 3 we got our first COVID test. In October 2020 it was not mandatory to have a negative COVID test before entering the country. The MIQ nurses we were great with kids. After their nasal swab the MIQ nurses even gave Elena and Eva a lollipop.
Day 12 check
On day 12 we completed our second COVID test. Another negative result! This was great news. Negative results meant we could leave MIQ on day 14.
How We Passed the Time During Our New Zealand Quarantine
We made sure to prepare ahead of time for our 2 week quarantine. You can read about how we prepared here. Preparing really helped us have a smooth stay at the Commodore Hotel.
Elena and Eva spent their days playing outside in the shared outdoor space and crafting inside our MIQ room. On Halloween we surprised them with some US postal worker costumes. The costumes were a big hit!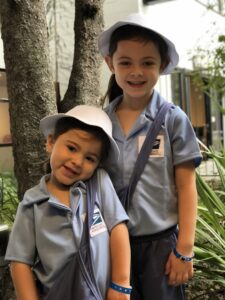 I made sure to bring lots of activities for the girls. This was a must because there is only so much you can do in a little hotel room. I'm not sure we could have survived without a steady stream of crafts.
I wish I would have found Minivoyager before entering MIQ. Minivoyager curates your child's very own activity package. They can use on weekend getaways, airplanes, road trips, pretty much anywhere a distraction or fun is needed. They have lots of fun activities to choose from geared for 12 months old all the way up to 8-year olds. Minivoyager has thought of it all! Elena (5 years old) would have loved the Jettsetter Tavel Kit. Eva (3 years old) would have spent hours playing with the Jettsetter kit or the Weekend Travel Kit.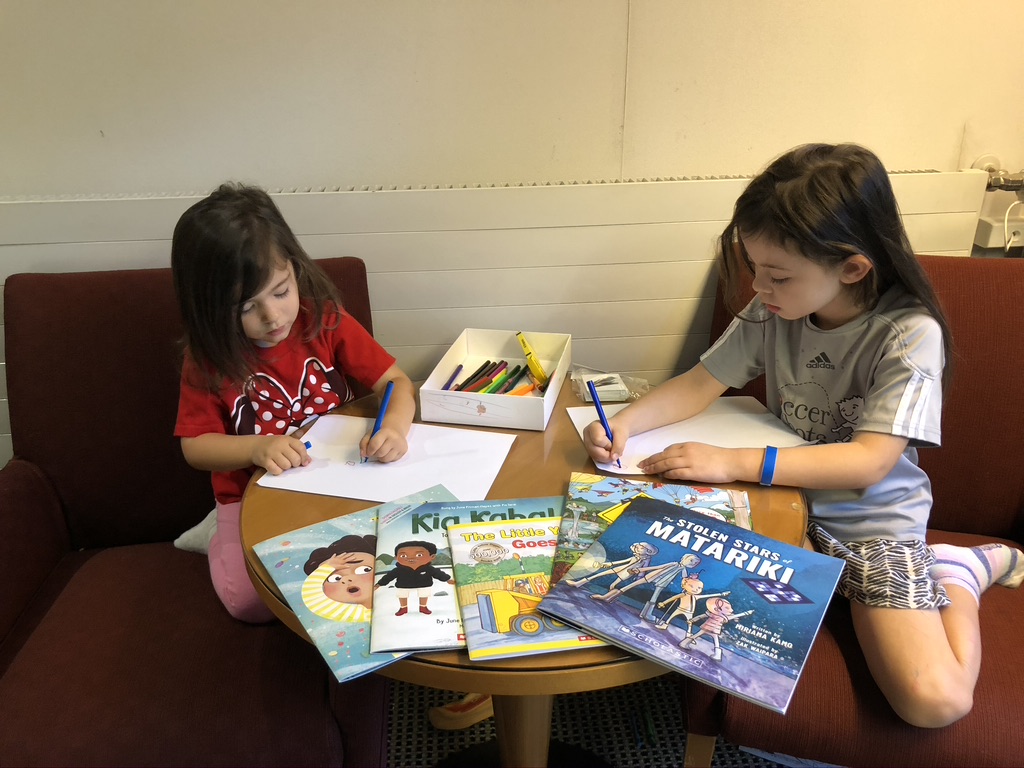 The last few days of MIQ we spent more time lounging around, finishing crafts, and playing on devices. During these last days we felt our very first New Zealand earthquake. It was quite the kiwi welcome.
We enjoyed staying in touch with family and friends through Face Time, WhatsApp and even Zoom calls. We spoke with someone over one of those platforms nearly everyday.
Preparing to leave MIQ
Health and Wellbeing Team
The New Zealand government created a Wellness Team. The team checks in on guests during their time in quarantine, writes and delivers daily newsletters, and is the go to for any questions. The Wellness Team at the Commodore Hotel provided us with travel SIM cards. We got to choose from three New Zealand providers: Vodafone, 2 Degrees and Spark. Ultimately we chose the New Zealand owned and operated 2 Degrees. Goodbye US numbers, hello kiwi digits!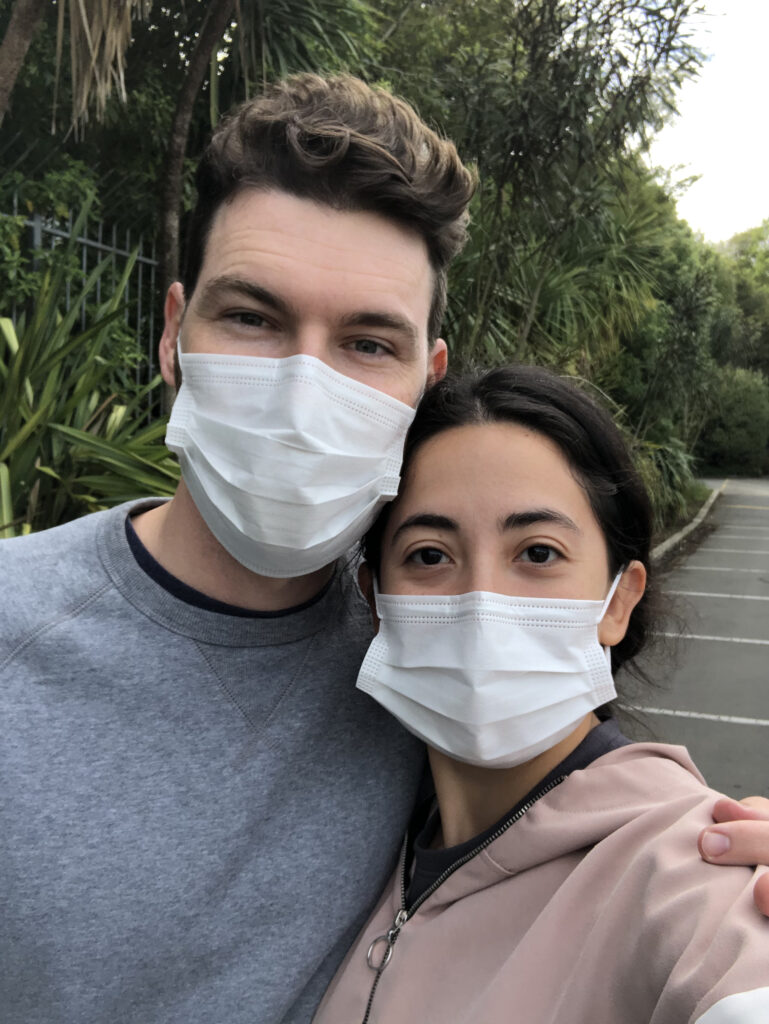 Departure Options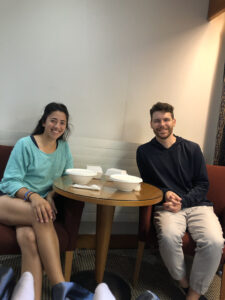 In order for us to leave the MIQ facilities we had to meet certain criteria. We needed 2 negative covid tests and to have been in isolation for at least 14 days. There was no exception. The Wellness Team also helps coordinate departures. Since we were flown from Auckland to Christchurch we had 3 options for our departure from MIQ. We could either have a flight booked for us back to Auckland, get a shuttle to the Christchurch airport and fly to Wellington, or get a shuttle to the Christchurch airport and drive to Wellington. We opted for the road trip.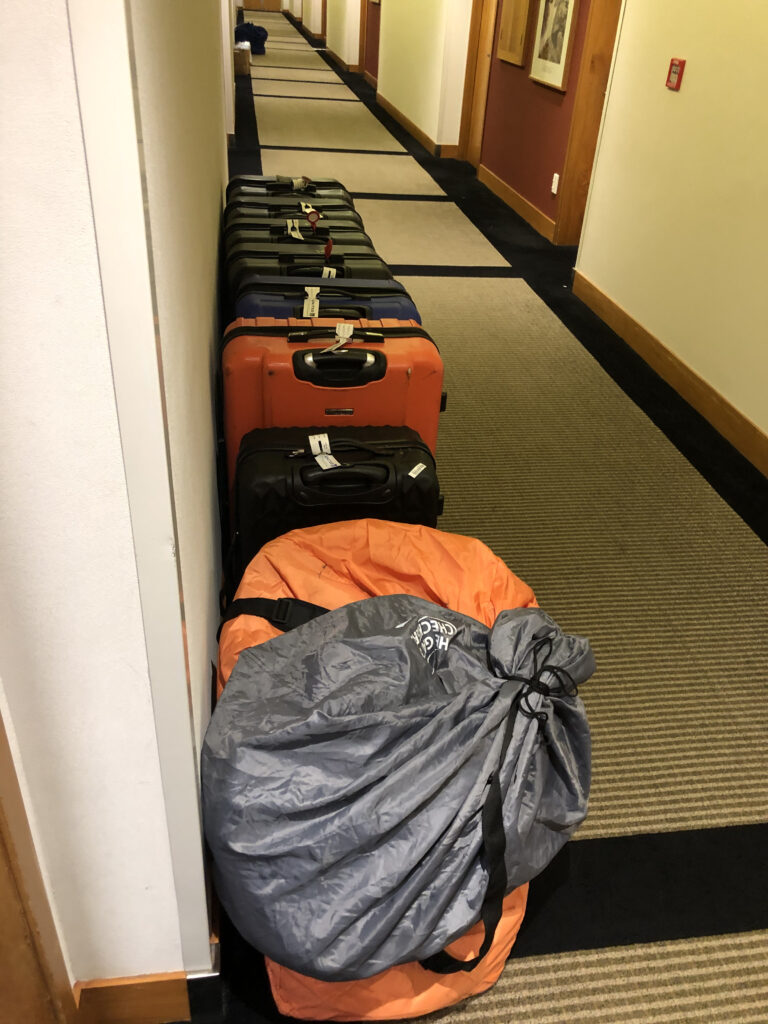 Overall we had a great MIQ experience. It helped that we made sure to prepare ahead of time. Check out my post on how to best prepare for MIQ here. I would love to hear how your MIQ stay was or what you plan on doing.
This post contains affiliate links, which means I may receive a commission if you choose to purchase through links I provide (at no additional cost to you).
Sites
Up to date Info on Managed Isolation Quarantine
Connect with a community through Facebook groups Moving to New Zealand or New Zealand Hotel Quarantine